Blog 147 Round 2 and fat Songs

Classmate updates
Several more classmates checked in after the last blog. First, an apology, a correction, and a note!

Apologies to
Richard de la Garza, whose response I overlooked, as it slipped in between a raft of ads. He wrote, "Just want to let you that I am still alive. Appreciate you keeping track of us and all your hard work. Lucky us, thank you!" For those who have forgotten, Richard and Servando are brothers, twins I think.

Correction:
Patricia Trimble Bryant
gently informed me that she does still drive, just not on IH-35. If you are living outside Texas, the Interstate traffic from San Antonio to Austin to Dallas is always heavy traffic. Trucks arriving from Laredo and delivering northward contribute significantly to the congestion.

Note: Several notified that the photos sent by classmates and posted in the last blog could not be opened. Those mentioned came from Apple iPhones. I can offer no explanation for the failure, as they were in the normally universal format.

Margot Rocha I am still alive. Thank you for all you do and keeping us informed. 

Peggy Page Murry

I continue to look forward to hearing from you. Your note is always greatly appreciated.

 Still here in Portland since retiring. One son and family here,with the other  son and family still in SA.

Thanks so  much.

Servando (and Amelia) de la Garza Present.

Glenn Tripp.  I'm 87 now, lost my wife Jo after 52 years together last year. It's been tough without her. Not doing much, going to doctor visits, etc.  I have a mobility problem with my legs, just getting old, I guess.  

History….I went to SAC for two years with Clyde Sturgess and we both went into the Army.  He went to France and I went to Germany with the 3rd Armored Div.  Me and Irish girl while on leave and married her in 1958.

Came back to the US in 1960, had a daughter in 1969.  Got out of the Army in 1962 and came back to San Antonio.  Worked for a finance group for 9 years and was recruited by Texas Commerce Bank where I worked for 21 years, retiring in 1992 as a Vice President.

My wife and I bought a house at Canyon Lake, but did not like it so far out.  I sold it and bought RV.  We traveled all over the west US living in the RV till she told me that she had enough.  So, I built a small cottage on my brought 2 acres, and that where I live today.

That is a quick history of my past doings, so to speak.

My ability to get around is not good, so I'm limited to what I can do.  So, I'm not sure if I could meet with Danny, my old football partner.  I'd have to think on it. (This refers to a monthly lunch of jocks and wannabes organized by Dan Scaraiffa.)

Jerry Stephens "For me, high school was not something I enjoyed, simply endured on my journey in life. Very few fond memories other than graduating prom with Harry James, math lessons from "D-1 Daniels," chem lab assistant and driving my 1925 Model T roadster from Alamo Heights to school. I wasn't a member of a club, wasn't athletic, didn't play an instrument and often had to run the ROTC "ouch" beltline.

 My 7 careers span petroleum engineering, government service (White House, Congress, OMB, 2 presidents, 2 governors, 2 senators and 5 federal agencies, Tx Legislature), political campaign management, marketing, IT consulting and currently regional broadband services and commercial real estate. At 86 I'm looking forward to the next career as a historical travel consultant.

 Other than 5-6 high school friends lost in time, I have no enduring relationships with classmates. 

I have been blessed with long life and accomplished every goal. On my tombstone it will say 'Jerry had a full life and did everything on his bucket list. Mission Accomplished. Thanks be to God'."

(Editorial comment: Jerry's input illustrates that not everyone had a great experience in high school. Aside from the "in" group, most of us went about our high school career learning what we could or did what we needed to do to graduate. I have heard so many times over the years expressions such as "No one will remember me" or "I was just there in the background" or a similar sentiment. In reality, many of our classmates that "nobody remembers" are mentioned and asked about somewhat regularly. I appreciate Jerry's comments and his agreeing to publishing them. Like several other of our classmates, Jerry lives in Georgetown.

Carolyn Pope Boitnot "John and I are doing well and moving into a retirement home in Baltimore this summer. In addition to moving to a retirement community this summer one of our younger grandsons has been living with us this past year as he has started his teaching career. He is teaching geometry at Digital Harbor one of Baltimore City's high schools. When we move, he will be sharing an apartment with his girlfriend as he spends another year at Digital Harbor and she works on her graduate degree in UM; rest of our family is well. We now have three great grands. We celebrated our son's 60th and Johns 90th birthdays with our daughter and husband at Joshua Tree National Park this past March and enjoyed hiking in that unusual environment. Again thanks for keeping us in touch."

Skipper Quick
Skipper's wife, Carol, wrote for Skipper. (I think a fair number of us knew at least one of the other Quicks, and Carol has updated, so I am including that information.) "Skip is having many health problems but we were handling them. Peggy Quick Munsonand her husband, Houston, have both passed away. Skip lost his younger brother, Don, many years ago & his older brother, Tommy, passed away after Peggy. Skip is the only Quick left that went to JHS.

Skip & I will be married 66 years in August & we have 4 children, 10 grandchildren, & expecting great grandchild #10 in November.

We have moved to a Senior Community in Victoria to be closer to family & away from hurricanes we experienced too many times In Portland, Tx. This little duplex is all we need & everything is done for us for the maintenance, cleaning & cooking.

Skip has diabetes & isn't driving anymore so I take him 3 times a week to dialysis. We are in upright positions which is a blessing but our lives are definitely scheduled. Even so, we thank God for this long life (with most of our abilities) to be able to enjoy our beautiful family. Skip uses a walker because of back problems & we were getting to know the EMS people too well that came to pick him up!

Thank you for keeping up with all of us old (I refuse to say elderly) people. Skip really enjoyed seeing the pics from the luncheon. There are several people we would love to know about. Broke my heart to hear about Nola & Doug Campbell. She & I went to Edison together."

Comments Done. Those are the classmate responses to date. Should other replies trickle in, they will be posted. In the meantime, if you are still working full or parttime or recently retired, let me know. We have 6-10 that I know of and probably others whom I do not.

Politically Correct???
Closing out today, let's look back at a time when everyone was politically correct because being politically correct did not exist.

Arthur Godfrey and fat songs! Most people of a certain age remember Arthur Godfrey as a significant radio personality during the late 40s and into the 50s. My grandmother lived with us and tuned in his daily radio program. I recall him as an egotistical fathead. And by today's standards, he was so unpolitically correct. But back then, we probably all were with not a clue that we were denigrating all sorts of people. The memorable example from Arthur, who wrote and sang "She's Too Fat For Me."

Here is the chorus:

Oh, I don't want her, you can have her
She's too fat for me
She's too fat for me
She's too fat for me

If you care to hear the complete vocal search for the title on Google. There is no version by Arthur but you can listen to Bobby Vinton, who calls it The Too Fat Polka.

Hoagy Carmichael wrote Stardust,
Heart and Soul, Georgia on My Mind, and Old Buttermilk Sky but also saluted fat women with his "Huggin and Chalkin" song. Here are a couple of verses. Listen to Hoagy sing it at https://www.youtube.com/watch?v=h_QfAzJP2Zo

Oh, gee, but ain't it grand to have a gal so big and fat
That when you go to hug her, you don't know where you're at
You have to take a piece of chalk in your hand
And hug a ways and chalk a mark to see where you began

One day I was a-huggin' and a-chalkin' and a-chalkin' and a-huggin' away
When I met another fella with some chalk in his hand
A-comin' around the other way over the mountain
A-comin' around the other way

Those are two examples of songs we laughed about back then, but I suspect there are more songs from that era about fat or skinny people and other topics that offend many today.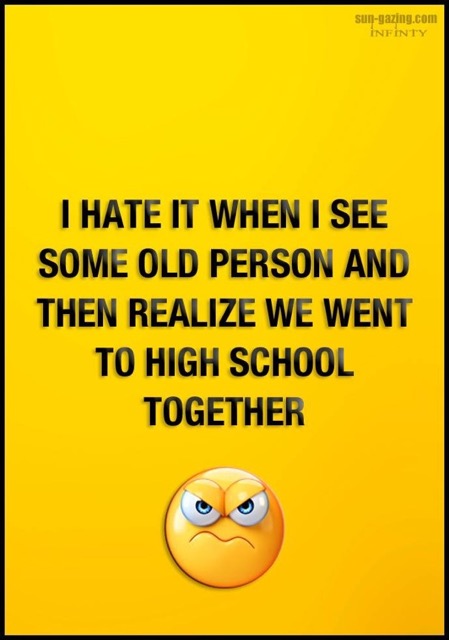 What follows has been around for some years but still causes a chuckle on hearing it again. A classmate found it in the newspaper and sent it along.

Till next time, thanks for reading.